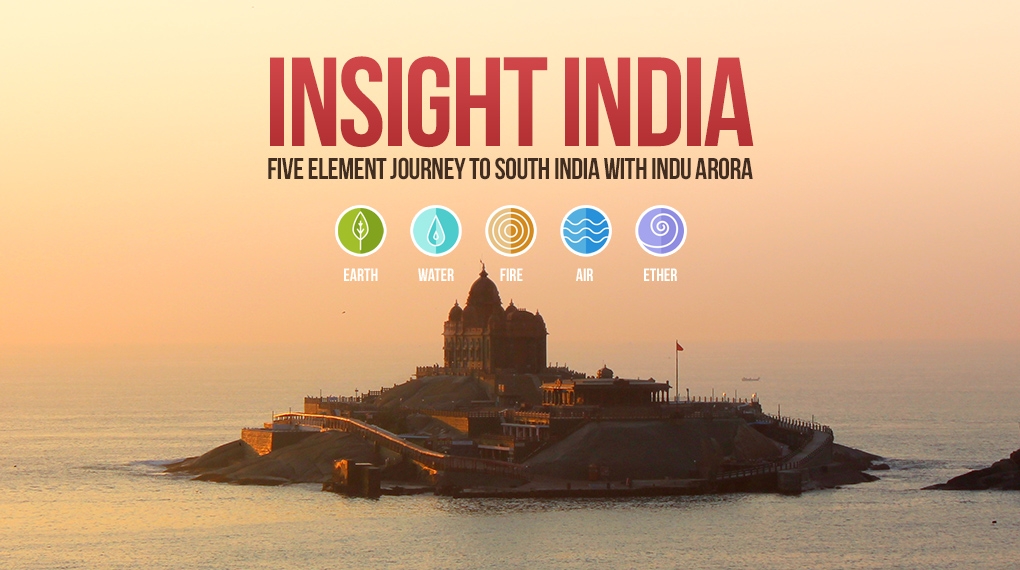 27 November 2017 - India
Insight India - South
Five Element Journey to South India with Indu Arora
'The land of Ayurveda' brings the five elements to life. An experience which is a perfect blend of rest, rejuvenation, exploration, yogic insights, rituals and pilgrimage.

November 27 - December 10, 2017
FIVE ELEMENT JOURNEY HIGHLIGHTS:
EARTH - Vaidya Grama - The village of healers, simple ayurvedic treatments, daily lectures (by Shashi Khosla and Indu Arora) on Ayurveda and Yoga practices for one week.
WATER - Jambukeswarar
- Visit to the temple, which is dedicated to the water element.

FIRE - Meenakshi Temple - To acknowledge the fire we visit Madurai and Meenakshi Temple which is one of the Shakti sthala in South India.

AIR - Rameshwaram is one of the 12 Jyotirlingam (awakened form of Shiva) in India. Shiva is considered to be omnipresent like the air.

ETHER - Kanyakumari is the meeting point of three bodies of water (Arabian sea, India Ocean and Bay of Bengal) and it is the southern most tip of India.

Travel & Accommodation:

Pick up from and drop to the airport included
Airfare To & From India is NOT included
All group traveling expenses within India during the journey and monument fees covered*
Accommodation will be twin/ triple sharing rooms
Breakfast included for all 14 days AND lunches and dinners in the first 7 days of the journey is included
* Not included in Fees: Visa, Passport, Health Insurance, additional sightseeing, changes in itinerary, shopping, calling cards, special food related requests, baggage fees, health maintenance, lunch & dinner.
Find more here
Fees & Registration:
Price in USD for 14 days $3500
Registration fee*: $500 by January 15th 2017
*Registration fee is non-refundable and non-transfarable
Payment options:
Singel payment: $500 payed by January 15th 2017 and $3000 payable by March 15th 2017
Installments: $500 payed by January 15th 2017 and 3 installments of $1100 each payable by March 15th 2017, June 1st 2017 and August 1st 2017
Would you like to sign up for the event?